b-1, precarious tasks

#0 communal tea drinking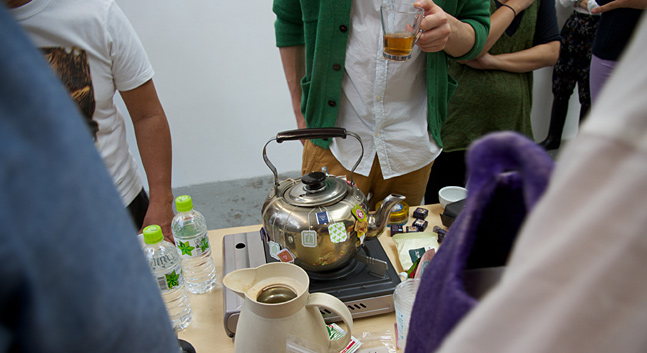 year: 2012
form: collective acts
material: photograph and text
size: 730X1100mm
credits: created with Aoyama Meguro, Tokyo and too much magazine
artist's notes:
Some may sense in the idea of "gathering to drink tea" something Oriental, or perhaps Japanese. Obviously it was Japan that produced the tea master Sen no Rikyu, and tea ceremony is indeed one of those so-called "Japanese" pursuits. This project however has no superficial connections in that sense.

Fundamentally, I am a coffee drinker. But my coffee-only existence changed when I met my wife. She likes Pu-erh tea (a Chinese tea), so at mealtimes as a rule we drink tea. And the friends that visit us at home in Los Angeles bring us Japanese tea, slightly unusual blends of tea, herbal teas... When we go back to Japan for a while, again we invariably receive such teas. There are organic teas and the dieter's essential, rooibos tea. All kinds of tea are produced in all kinds of places all over this world.

When a friend married in Hong Kong, it was arranged that the artists would donate a work. I suggested gathering from within Hong Kong teas produced in various places and gifting the couple a tea made by mixing the lot. I attached a short note along the following lines:
When you drink a tea, you might find out where the tea leaves came from and also wonder about the place where they grow. Even though you've never been to the place, it may be the place you've been dreaming of - a little thing in terms of our daily lives, but one way we can connect to the world where we live, where we belong, where we may be able to contribute something. Drinking a tea is a metaphorical way of thinking about where we are.
Drinking tea also entails thinking about different lands, and the act of physically connecting that land and this body via tea leaves cultivated in a particular place.

Moreover in today's Japan, this fact is directly linked to a serious issue. The massive earthquake and tsunami of March 2011 was followed by the accident at the Fukushima nuclear power plant. This led to the sustained dispersal of invisible radiation/radioactive substances, forcing the Japanese to be daily aware of the land on which they live, and the very soil itself. Cumulative concentrations of radioactive material in the ground are measured every day, and decontamination performed if necessary. There are safe levels of contamination for agricultural produce as set by the government, but to many, these are suspect. To tackle radioactive contamination themselves, people endeavor where possible to drink bottled water as opposed to tap water, and be aware of where farm produce originates. Radiation dosimeters are now readily obtainable at major electrical outlets, allowing people to measure radiation levels themselves. The effects have also appeared at Japanese supermarkets in Los Angeles. There they stock Brazilian tea produced by a Japanese firm (Yamamotoyama). In Brazil, with its long history of Japanese immigration, there has always been demand for tea, and no doubt the manufacturing base was already there.

Sunday 23 September 2012, a rainy day in Tokyo Using Facebook, Twitter etc. I sent out a call to friends and friends of those friends to bring me teas, from teas left neglected in the back of kitchen cupboards, to their personal favorites. Setting up a large-ish kettle at the venue – Aoyama Meguro Gallery – I had them randomly place their tea bags and tea leaves in it. I suppose there would have been somewhere between forty and fifty people there. The kettle was crammed with countless varieties of tea, from green tea to oolong, herbal teas, Earl Grey, mint tea, Assam... the resulting brew was very dark in color, but everyone agreed, surprisingly drinkable. Many of those who came were people I'd never met, but quizzing each about the tea they'd brought along made a good conversation starter.

In the Hong Kong "tea" I wrote of earlier, tea leaves gathered, imported from various areas and countries, and sourced in one particular region, were mixed together in a "global blend" obtainable in one region, in this case Hong Kong. Here, it was the region that provided the theme. But in Tokyo, I had friends and acquaintances bring me tea leaves from their homes. This was a tea blend that changed depending on the people who assembled there, depending on the community, a one-off blend created by a one-off gathering of people. Here the focus shifted to the gathering itself.

A single tea bag connects us to the place the tea was grown, and to people. And to the problems of the world.
アーティストノート:
「集まってお茶を飲む」と聞いて、東洋的なもの、あるいは日本的なものを感じる人がいるかもしれない。もちろん日本には千利休もいたし、茶道はいわゆる「日本的」なもののひとつだろう。しかしそのような意味での表面的な繋がりは、このプロジェクトにはない。

ぼくは基本的にコーヒーを飲む。でもコーヒーだけの生活は、妻との出会いによって変化する。妻はプーアール茶(中国茶)が好きだから、ぼくらは食卓を囲み基本的にお茶を飲むことになる。そしてロサンゼルスに住むぼくらを訪ねる友人たちは、日本茶や少し変わったブレンド・ティやハーブ・ティをプレゼントしてくれる。あるいは一時帰国をしたときに決まってもらうのもそうしたお茶だ。オーガニック・ティやダイエットにかかせないルイボス・ティ。この世界にはさまざま土地でさまざまなお茶が作られている。

香港での友人の結婚式のとき、アーティストたちが作品をドネーションすることになった。ぼくはそこでさまざまな土地で作られたお茶を香港市内で集め、それを混ぜ合わせたお茶を出してはどうかという提案をした。ぼくはそこで次のような短いメモを添えた。
when you drink a tea, you might find out where the tea leaf came from and also wonder the place where the leaf grows. even though you never been to the place, it is the place you may be dreaming about. which is a little thing in our daily event but it would be one of the way we can connect the world where we live, where we belong to, where we could contribute something. drinking a tea is metaphorical way of thinking where we are.
お茶を飲むということは別々の土地を思うことでもあり、ある土地で育った葉を通して物理的にその土地とこの身体を繋ぐ行為でもある。

そしてこの事実は現在の日本において、とても深刻な問題と直結する。3.11の大地震の後、福島原子力発電所の事故が起きた。それによって目に見えない放射能/放射性物質は飛散しつづけ、日本人は自らの住む土地、その土そのものを日常的に意識させられることになった。土地の放射性物質の積算濃度は日々測られ、必要となれば除染作業が行われている。農作物の汚染濃度に対する政府の安全基準もあるが、どうも疑わしい。人びとは放射能汚染に自ら対処するため、水道水ではなくできるだけペットボトルの水を飲料水とし、農作物の産地を意識するようになった。いまでは放射線線量計も簡単に電気量販店で手に入れることができ、自ら放射線濃度を測ることもできる。

ロサンゼルスの日系スーパーでもこの影響は表れた。そこには日系企業(山本山)によるブラジル産のお茶が店頭に並んでいる。日系社会の歴史が長いブラジルでは、もともとお茶の需要があり、製造のベースがあったのだろう。

雨が降る2012年9月23日日曜日、東京。
ぼくはFacebookやtwititerなどを通して友人やその友人の友人たちに、キッチンの戸棚に忘れられているお茶や自分の好きなお茶を持って来てもらうように呼びかけた。会場である青山目黒ギャラリーに少し大きめのやかんを用意し、そこに持って来てもらったティー・バッグやお茶の葉を無造作に入れてもらう。来てくれた人たちはおそらく40~50名弱。やかんにはさまざまな、例えば緑茶、ウーロン茶、ハーブ・ティ、アールグレイ、ミント・ティ、アッサム・ティなど、数え切れないくらいのお茶が詰め込まれた。そこからしみ出てきたお茶はとても濃い色をしていたけど、みんな「意外と飲めるね」と言い合っていた。集まった人びとは、いままで会ったこともないひとも多かったけど、それぞれに「どんなお茶を持って来たのか」ということを話のきっかけにしていた。

先に書いた香港での「お茶」では、ひとつの地域で見つかる、様々な土地、国から集められた、輸入されたお茶の葉が混ぜ合わされた。これはつまり、香港というひとつの地域で得られる「グローバルなブレンド」である。ここでは地域がテーマであった。でも東京では、友人知人たちに、彼ら/彼女らの家にあるお茶の葉を持って来てもらった。集まる人びとによって、そのコミュニティよって変化するお茶のブレンド。一時的に集まった人びとによる、その場限りのお茶のブレンド。ここではこの集まりそのものにフォーカスが移っている。

ひとつのティー・バッグを通してぼくらは産地と繋がり、人びとと繋がる。そして世界の問題とも繋がっていく。
participants (2012/9/23):
Mario A, Tim Bacheller, Ami Choh, Audrey Fondecave, Hiromi Fujii, Mie Hara, Satoshi Hashimoto, Takayuki Hayashi, Fumio Inoue, May Ishikawa, Hirofumi Isoya, Rei Kagami, Chie Kawasaki, Kouyo Kitamura, Tetsuya Kodama, Scott Licznerski, Kumiko Matsumoto, Shimon Minamikawa, Takeo Minato, Mizuki Misumi, Daisuke Miyatsu, Ryoko Miyoshi, Ayako Nagata, Rei Nakamura, Hiroshi Oka, Krister Olsson, Akiko Osanai, Elias Redstone, Asako Saito, Takeo Sawanobori, Kyoko Shikisako, Ryo Shimizu, Yukiko Shinobu, Satoshi Shiraki, Miyo Tomizawa, Yoshi Tsujimura, Liliyo Tsujimura Fondecave, Kei Ueda, Yoko Washio, Tae Yamagiwa, Takashi Yamauchi, and others
参加者(2012/9/23):
亜 真里男、磯谷 博史、井上 文雄、植田 圭、岡 宏、長内 玲子、加賀美 令、、河﨑 千恵、北村 昂陽、小玉 哲也、齊藤 朝子、澤登 丈夫、漆迫 今日子、信夫 由紀子、 清水 玲、白木 聡、張 雅美、辻村 りり世、辻村 慶人、冨澤 美与、永田 絢子、中村 麗、橋本 聡、林 卓行、原 三枝、藤井 宏水、松本 久美子、三角 みづ紀、 湊 健雄、南川 史門、宮津 大輔、三好 亮子、山内 崇嗣、山際 妙、鷲尾 蓉子、Krister Olsson、Audrey Fondecave、Elias Redstone、Scott Licznerski、 Tim Bacheller、May Ishikawa、and others